Best Recreational Places Near Charlotte, NC
Posted by Jacob Ellis Realty on Thursday, September 7, 2023 at 10:00 AM
By Jacob Ellis Realty / September 7, 2023
Comment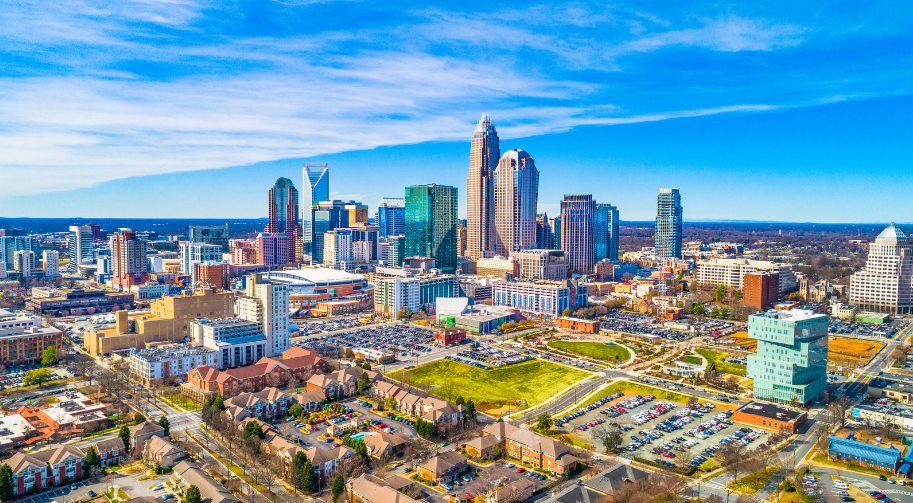 Charlotte, the most populous city in North Carolina, is a melting pot of diverse cultures and home to the tallest building in NC. The massive urban sprawl is bursting with historical attractions, art scenes, luxury hotels, and delicious restaurants.
Whether you're seeking a dose of adventurous outdoor activities or a sneak peek into the diverse animal and plant species, Charlotte has it all! The city has numerous attractions for visitors of all ages and cultures, which is why 29.6 million people travel to this place!
So, if you're traveling or moving to Charlotte, NC, we've created a list of the best recreational places to check out. Let's get started!
A Quick Glance at Charlotte, NC
Charlotte is among the top 20 fastest-growing US cities, owing to its lovely attractions and lower-than-average cost of living! In fact, the pleasant urban area has a relatively mild climate and is near the massive Appalachian Mountains.
Moreover, when comparing housing costs with median household incomes, Charlotte, NC indicates a better value than other metro areas. The best part of visiting or moving to this city is its tall shopping malls, epic outdoor activities, diverse cuisines, exciting motorsports events, and growing financial industry!
Top Three Recreational Places to Visit
Let's now explore the best three recreational places near Charlotte:
Enjoy Outdoor Activities at the US National Whitewater Center
If you plan to visit Charlotte, add the US National Whitewater Center to your bucket list! The epic outdoor center features a stunning 1,300 acres to run, paddle, or raft on the water, climb the rock wall, zip through ropes, and walk 50 miles of trail.
What's more? After a day of adventuring, you can enjoy a picnic at River's Edge or brew at the Pump House Biergarten. You can also gorge on a delicious meal near the open areas or take a historical city cart tour. Besides this, you can check out kid-friendly activities, races, and concerts to enjoy a fun-filled vacation with your friends or family!
Relive Iconic Races by Walking in the NASCAR Hall of Fame
Charlotte is famous for its love for NASCAR and the Memorial Day weekend tradition. So, for NASCAR enthusiasts, the NASCAR Hall of Fame is a must-visit!
Located near Downtown, the NASCAR Hall of Fame offers visitors a sneak peek into the history of legends of America's favorite motorsport. Furthermore, once you tire of browsing the enticing and interactive exhibit, you can snack at the Pit Stop Café!
Unleash Your Daredevil at the Carowinds Park
Ride on heart-stopping rollercoasters and calming water slides by visiting the Carowinds family-friendly park. Nestled between the North and South Carolina border, this massive park is ideal for daredevils and thrill-seekers worldwide!
With over 100 unique rides and attractions, diverse restaurants, water slides, and the world's top steel roller coaster, Carowinds Park promises a once-in-a-lifetime excursion!
The Final Words
Whether booking a trip or moving to Charlotte, NC, the motorsport-mad, diverse cultural, and delicious cuisine city promises a unique experience! So, plan an unforgettable vacation by adding these three recreational places to your bucket list.
Moreover, if the attractive job opportunities and affordable cost of living in Charlotte, NC, for a single person grab your attention, don't hesitate to seek housing opportunities!
Sources:
https://tourscanner.com/blog/things-to-do-in-charlotte-nc/
https://www.nctripping.com/outdoor-things-to-do-in-charlotte/