Charlotte: The Queen City of Opportunities
Posted by Jacob Ellis Realty on Wednesday, July 5, 2023 at 11:01:43 AM
By Jacob Ellis Realty / July 5, 2023
Comment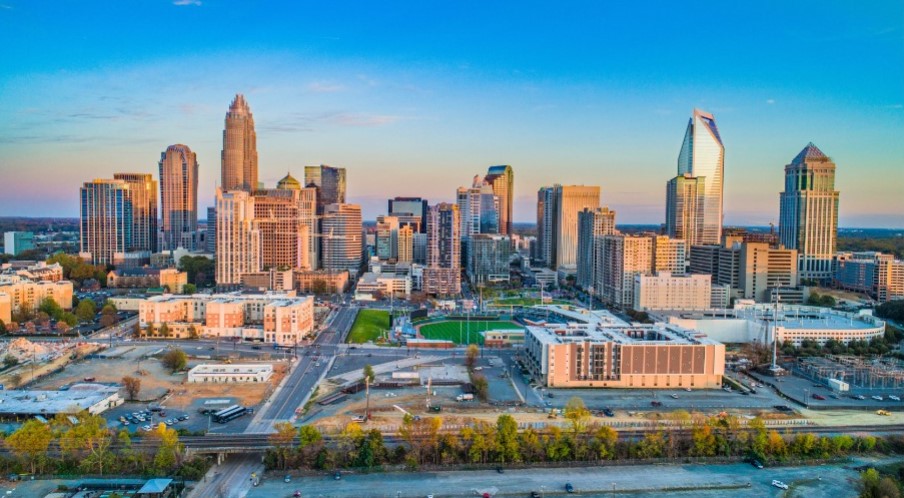 Welcome to Charlotte, the Queen City of North Carolina, where opportunities abound and a vibrant lifestyle awaits. Known for its thriving economy, job opportunities, and rich cultural scene, Charlotte has established itself as a premier destination for those seeking professional growth, diverse neighborhoods, and an abundance of recreational and cultural attractions. In this article, we'll explore what makes Charlotte truly special, from its economic prowess and vibrant arts scene to its popular neighborhoods and renowned professional sports teams. Discover why Charlotte should be at the top of your list when considering a move to North Carolina!
Economic Growth and Job Opportunities:
Charlotte's remarkable economic growth has garnered national attention, making it a prime location for professionals seeking career opportunities. The city's robust economy is driven by diverse industries, including banking, finance, healthcare, technology, and energy. As one of the largest banking hubs in the United States, Charlotte attracts top talent from around the globe, offering a plethora of job opportunities in the financial sector.
Beyond banking, Charlotte's economy is characterized by a thriving entrepreneurial ecosystem and a supportive business environment. Startups and small businesses thrive in the city, contributing to its overall economic vibrancy. Whether you're an established professional or an aspiring entrepreneur, Charlotte offers a wealth of possibilities for career advancement and professional growth.
Vibrant Arts Scene and Cultural Attractions:
Charlotte is a city that embraces creativity and artistic expression. The cultural scene is alive and vibrant, with numerous art galleries, theaters, and performance venues dotting the city. The Mint Museum, the Bechtler Museum of Modern Art, and the Levine Museum of the New South are just a few of the cultural institutions that showcase the rich heritage and artistic diversity of Charlotte.
For performing arts enthusiasts, the Blumenthal Performing Arts Center hosts a wide range of shows, including Broadway productions, concerts, and ballet performances. The North Carolina Music Factory is another must-visit destination, offering a variety of live music venues that cater to different tastes and genres.

Popular Neighborhoods and Recreational Activities:
Charlotte is known for its diverse and welcoming neighborhoods, each with its own unique character and charm. South End, with its vibrant arts scene and trendy restaurants, is a popular choice for young professionals and artists. Dilworth, with its tree-lined streets and historic homes, offers a charming residential atmosphere. Uptown, the city's bustling center, combines corporate offices, high-end dining, and cultural landmarks.
When it comes to recreational activities, Charlotte has plenty to offer. The city boasts a vast network of green spaces and parks, including Freedom Park and the U.S. National Whitewater Center. Nature enthusiasts can explore the nearby Lake Norman or enjoy hiking and biking trails in the surrounding areas. For sports lovers, Charlotte is home to professional teams such as the Carolina Panthers (NFL) and the Charlotte Hornets (NBA), providing thrilling entertainment for fans.
Conclusion:
Charlotte, the Queen City of North Carolina, offers a wealth of opportunities and an unmatched quality of life. With its robust economy, diverse job opportunities, vibrant arts scene, and rich cultural heritage, the city attracts professionals, creatives, and families alike. From its popular neighborhoods and recreational activities to its world-class cultural attractions and professional sports teams, Charlotte has something for everyone.
If you're considering a move to North Carolina, look no further than Charlotte. Embrace the city's economic growth, immerse yourself in its vibrant arts scene, and enjoy the myriad recreational activities it offers. Let us assist you in finding your dream home in Charlotte, whether you prefer a trendy urban loft, a historic bungalow, or a suburban oasis.
Contact us today and our network of experienced real estate agents at Jacob Ellis Realty guide you through the process of finding the perfect home in the Queen City. As experts in the Charlotte real estate market, we are well-equipped to help you navigate the city's diverse neighborhoods and find the home that suits your lifestyle and preferences.